You Can Protect Your Privacy With A Collaborative Divorce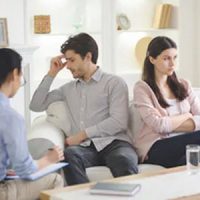 Getting a divorce is never easy. A marital separation is a highly personal thing to go through. Similar to most people, you probably want to keep your divorce out of the public. Florida's collaborative divorce process allows you and your spouse to resolve your separation in a formal setting, while keeping the details confidential. Here, our Boca Raton, Coral Springs and Parkland divorce lawyers explain how Florida's collaborative divorce process can help protect your privacy.
What is a Collaborative Divorce in Florida? 
Collaborative divorce is a specialized legal process for separating couples who want to keep their divorce, but still need to work towards a final settlement. While there are some similarities to mediation, collaborative divorce emphasizes working towards finding mutually agreeable, win-win solutions.
Collaborative divorce can be a cost effective, efficient tool for divorcing couples who believe that they can still work together to come to an agreement. Notably, Florida's collaborative divorce process has been formalized. There are rules and regulations for entering the collaborative process. 
Collaborative Law Communication is Strictly Confidential 
One of the most important things to know about collaborative divorce is that all communications within the process are kept strictly confidential. Any terms reached within the collaborative law process will not become part of the public records. You and your spouse can reach a divorce settlement and keep the following matters strictly private:
The reason for divorce;
The financial terms of the settlement; and
Child custody or child visitation provisions.
Notably, the negotiations between the parties within the collaborative divorce process are also fully protected. Under Florida law (Florida Statutes § 61.58), "a party may refuse to disclose, and may prevent another person from disclosing, a collaborative law communication." In effect, this means that your spouse cannot use what you see in collaborative negotiations in litigation in the future. 
Confidentiality Protections Also Apply to Each Party's Legal Representative 
Florida's collaborative law confidentiality protections are so strong that they also apply to each party's attorney. When you enter the collaborative law process, you should be represented by a qualified divorce lawyer. If you or your spouse choose to exit the collaborative law process without reaching a final divorce settlement—as is your right; collaborative divorce is fully voluntary—then all attorneys must withdraw representation. This helps to ensure that people can make open, fully protected statements and disclosures within the collaborative law process. Nothing said within the process in an effort to reach a settlement can be used in litigation in the future, should the divorce case end up in court. 
Call Our Divorce Attorneys for immediate Legal Help
At Williams & Varsegi, LLC, our Florida divorce lawyers represent clients with the dignity, respect, and the highest level of professional skill. If you have questions about our state's collaborative divorce process, we are here to get you answers. Contact us now for a completely confidential case evaluation. From our legal office locations in Coral Springs and Boca Raton, we provide family & divorce services in Palm Beach and Broward County and throughout Southeastern Florida.