Emerald Williams – Managing Attorney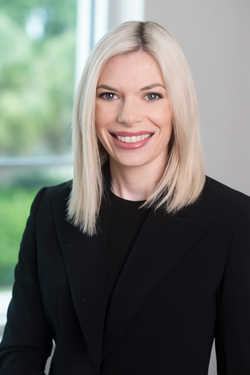 Emerald Williams is a founding and managing partner of Williams & Varsegi, LLC, a family law firm with offices in Coral Springs and Boca Raton, Florida. Emerald's practice is limited exclusively to the area of matrimonial and family law with a focused and boutique style of practice in only this area. Emerald was honored to be selected by the American Institute of Family Law Attorneys' as one of the Ten Best Attorneys for client satisfaction. Emerald's philosophy is to focus on the entire family unit from start to finish, which includes handling matters such as divorce, alimony, child support, timesharing, parental responsibility, paternity, and adoption. Emerald is known for her specialization in high-conflict and complex dissolution of marriages, as well as her work with high-net-worth divorces. Emerald devotes a considerable amount of her practice to advising clients and helping them resolve their disputes without the necessity of lengthy litigation. She practices with compassion, professionalism, and integrity.
Emerald was born and raised in Atlanta, Georgia. After graduating with honors from the University of Georgia School of Public and International Affairs, she earned her law degree cum laude from the University of Miami School of Law. Early in her legal career, Emerald served as an Assistant Attorney General prosecuting child abuse cases with the Department of Children and Families, as well as a senior staff attorney for the State of Florida Guardian ad Litem Program. As a natural progression, Emerald entered private practice specializing in marital and family working as a senior associate with a family law firm prior to becoming a founding partner at Williams & Varsegi, LLC.
Emerald's lodestar is her passion for helping children and families. As a mother herself, she has a keen understanding of family dynamics and excels at providing support for clients navigating the delicate and complex legal system. "I work around the clock for my clients and try to always be there for them and truly listen to their concerns," she said. She works collaboratively and closely with her clients every step of the way in order to develop a strategy with practical solutions.
Emerald is a highly effective attorney both inside and outside the courtroom. "I am well versed in litigation, but I want to be involved with families and the human side of the law," she noted. Though her goal is always to use collaborative principles to help clients reach amicable resolutions without the emotional strife caused by going to trial, should a case need to go to court, Emerald is well-prepared to fight as a zealous advocate on her clients' behalf. While Emerald is very comfortable in the courtroom, she truly wants what is best for her clients and their families which is the utmost importance.
Emerald is a mother of three and an active member of the South Palm Beach County Bar Association, the Broward County Bar Association, the Florida Association for Women Lawyers, the Florida Bar Family Law Section, and the National Association of Divorce Professionals. She also volunteers with the Junior League of Boca Raton.
Practice Areas:
Alimony
Child Support
Child Custody and Timesharing
Dissolution of Marriage
Divorce Litigation
Division of Marital Properties
Domestic Violence
Marital Agreements
Mediation
Paternity
Post Divorce Modifications & Enforcement
Pre-nuptial & Post-nuptial Agreements
Pre-Suit Divorce
Protecting Parental Rights
Relocation
Same Sex Divorce
Shared and Sole Parental Responsibility
Step Parent, Relative, and Foster Care Adoptions
Uncontested Divorce