Katie Varsegi – Managing Attorney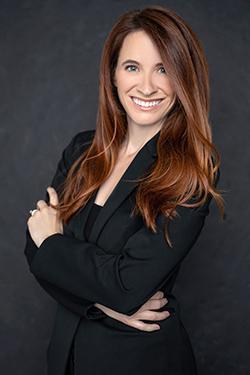 Katie Varsegi is an experienced litigator with years of trial experience in south Florida. Ms. Varsegi has been a tireless advocate for children and ensuring their safety and future through the litigation process.
Prior to entering private practice Ms. Varsegi worked as an Assistant Attorney General in the Children Legal Services Division. As a Senior Attorney, she was responsible for prosecuting cases of child abuse, neglect and abandonment. She devoted herself to ensuring Florida children's safety and well-being and to reuniting families. Ms. Varsegi worked closely with the Broward Sheriff's Office Child Protective Investigations unit as the intake attorney and was on the front line of child protection in Broward County.
Ms. Varsegi began her legal career in Florida with the Miami-Dade office of the Guardian ad Litem advocating for children's rights and in their best interest. It was there that she first discovered child welfare and her passion for assisting families in crises. She learned to use the law to make a difference for children and their families.
Ms. Varsegi recently completed the 2017 training to serve as a Guardian ad Litem in family law cases. She has previously served as a volunteer Guardian ad Litem in Dependency cases and looks forward to working directly with children again to ensure their voices are heard.
Ms. Varsegi received her undergraduate degree from Colorado State University and returned to her hometown of Chicago to obtain her law degree from DePaul University College of Law. She resides in Boca Raton, Florida with her husband and daughters.
Ms. Varsegi will work with clients to minimize the disruption and pain caused by divorce or any other family related legal issue. However, in the event collaborative, out-of-court settlement options fail, she is a zealous and seasoned litigator who will advocate tirelessly for her clients to ensure they get the results they deserve.
Professional Associations:
Florida Bar Association
Wisconsin Bar Association
Palm Beach County Bar Association
Broward Bar Association