Katie Varsegi – Managing Attorney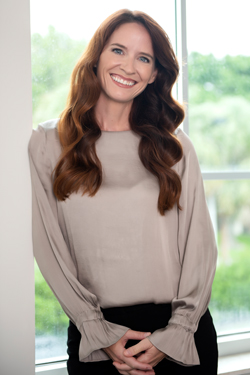 Katie Varsegi, Esq. has dedicated her legal career to serving the families of South Florida. She has years of trial experience litigating family issues for the State of Florida and now in private practice as a founding partner of Williams & Varsegi, LLC.
Katie's extensive trial experience encompasses all aspects of divorce and family law, including divorce, child custody (called "timesharing" in Florida), equitable distribution of assets, alimony, and child support. Katie takes the time to listen to each client's unique circumstances and develops a case strategy to meet each client's goals and protect what is most important to them.
While the attorneys of Williams & Varsegi, LLC use collaborative principals to try to negotiate settlements for our clients outside the courtroom, Katie is always prepared to take a case to trial to passionately advocate for her client if settlement is not an option. She has extensive experience litigating high-conflict divorces with high-net worth clients with complex financial assets and investments.
In addition to divorce, Williams & Varsegi, LLC represents clients in post-judgment matters, which is litigation after the Court has entered a Final Judgment to enforce or modify the terms of the Order. Katie frequently represents parties who were never married in litigating their timesharing and child support matters in paternity cases. She looks forward to representing clients in completing their family through adoption, including stepparent adoptions, termination of parental rights proceedings, or adoptions through foster care.
Katie frequently serves as a Guardian ad Litem appointed by the Court in contested matters to advocate for the best interest of the child. The Court frequently also appoints her to serve as an Attorney ad Litem for children with extraordinary needs. She has extensive training and experience handing cases where there have been allegations of abuse, neglect, substance abuse or domestic violence.
Katie understands that many clients come to their office in crisis and is here to help guide them through the legal process with knowledge, skill, and compassion when it matters most.
Professional Associations:
Florida Bar Association
Wisconsin Bar Association
Palm Beach County Bar Association
Broward Bar Association