Why More and More People Are Getting Divorced Later In Life, And What's Important at That Stage, Financially?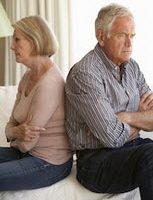 You've probably seen the term "gray divorce" appear in news articles and headlines—it refers to those who decide to divorce after age 50, sometimes after they've been married for 20 years or more. Just in the last 25 years, the divorce rate for this older group of Americans has more than doubled, and is now represented by one out of every four people going through divorce, where more than half of them have been married for more than 20 years.  Why is this the case?
Most of these divorces are not the result of individuals suddenly finding each other boring, or being unfaithful, but rather, two people simply growing apart after decades of marriage. It is also probably likely that, today; people expect more happiness and fulfillment. And some of these couples stayed together just for the sake of their children, for decades, trying very hard, but realizing that staying together was "killing [them], slowly but surely."
Factors Involved
Undoubtedly, there are also other factors involved, such as:
The stigma of divorce disappearing over time;
People are living longer, and therefore, the prospects of staying in an unhappy relationship are more daunting;
Women are increasingly able to make their own living, thus being less dependent on marriage for support;
The advent of easy online dating and the appeal of possibly finding a better match online; and
Seniors are living longer and engaging in more activities, such as travel.
Financial Considerations
Divorcing after age 50 is different than earlier in life in terms of financial considerations, mainly because each person has likely accumulated more assets, more in their retirement accounts, etc. Some additional considerations include the following:
Note that, if you have been married for 10 years or more, you are more likely to have alimony payments set up, and if it's a long-term marriage, alimony is sometimes provided for life;
Retirement plans are often cut in half, so make sure that you are receiving advice from an experienced divorce attorney on any tax implications;
One of the most important assets we discuss with our clients is the family home and being realistic about whether it is sustainable for one person to afford the maintenance on it after the divorce; and
If you did not enter into a prenuptial agreement before your marriage, strongly consider doing so before you contemplate remarrying, as your financial considerations will, once again, change.
Contact Our Florida Divorce Lawyers Today To Find Out More
When it comes to receiving the very best in divorce advice, don't take any chances, contact our Boca Raton and Coral Springs divorce attorneys at Williams & Varsegi, LLC, to receive knowledgeable legal advice.
Resources:
kiplinger.com/article/retirement/T065-C032-S014-the-rise-of-gray-divorce-why-and-why-not.html
psychologytoday.com/us/blog/complicated-love/201809/7-surprising-facts-about-gray-divorce
/new-study-sheds-light-on-divorce-being-less-harmful-when-children-are-younger/