New Study Proves That Frequent Communication between Parent and Child Is Key to Child Resilience after Divorce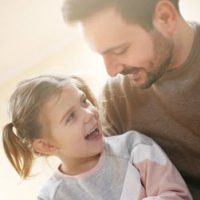 As attorneys who regularly work with clients going through a divorce, one of the most common concerns we hear is whether and how the divorce will affect a couple's children. While, historically, prevailing theories focused on parents having a cooperative relationship with each other as being instrumental in the child getting through divorce and maintaining a good relationship with each parent, a new study out of Kansas State University directly contradicts this theory by, instead, indicating that the most important factor for a child's resilience is frequent communication with the parents, often via technology such as texting, FaceTime, and other methods, as we discuss below.
Study Setup, Results, & Possible Cause
The study looked at children ages 10 to 18 and found that co-parenting styles did not seem to make a difference, but frequency of communication did, perhaps because it makes the child feel that they have control over the relationship, and can take "ownership" of it. Not only do the study results indicate that social media keeps kids connected to their parents after divorce, but they also indicate that how well the parents get along with each other does not seem to have an impact.
Other Findings
The study also found that youth with parents who are supportive and warm are less likely to experience emotional distress and problem behaviors, and parents who have greater knowledge of their child's daily lives are better able to provide a positive environment for them. On the other hand, inconsistent discipline can lead to aggression and anxiety, and threaten a child's sense of well-being.
Moving Forward
The researchers associated with the study are hoping that this could change the focus of divorce from parents trying to ensure that they get along with each other to, instead, having more frequent contact with their child. While it can sometimes be difficult for parents to understand how communicating via these devices encourages a close relationship with their child, because these devices are such an integral part of a child's world in the modern age, what this research indicates is that it is being able to communicate with their parent via the devices that makes all the difference.
Contact Our Florida Divorce Attorneys to Find Out More
Divorce is rarely ever easy, especially when children are involved. It can be a difficult adjustment for everyone involved, but what matters is that children stay as connected as possible to their parents, and advancements in technology now allow us to do this.
Our Coral Springs and Boca Raton, Florida divorce attorneys rely on collaborative methods to assist you with the full range of issues related to your divorce, including any concerns you might have about its effects on your child and making sure your relationship with your child stays strong after the divorce. Contact us today at Williams & Varsegi, LLC, to find out more.
Resource:
sciencedaily.com/releases/2019/02/190220112216.htm
/why-more-and-more-people-are-getting-divorced-later-in-life-and-whats-important-at-that-stage-financially/