The Most Common Reasons Why A Prenup Might Not Stand Up In Court In Florida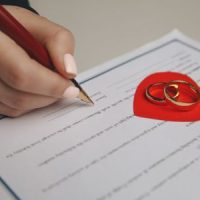 A prenuptial agreement helps to determine how property & assets should be divided in the event of a divorce. While not all people sign these agreements, they are more common for high net worth couples. In Florida, prenups are enforceable—but only when certain criteria are met. A court may throw out part (or all) of a prenup if the agreement is deemed defective or otherwise invalid. Here, our prenuptial agreement attorneys highlight four common reasons why a court might not enforce a prenup in Florida.
The Agreement is Not in Writing or is Not Signed By Each Spouse 
In Florida, a prenuptial agreement must be in writing and it must be signed by both parties. A verbal "prenup" will not be enforced by the court. If you do not have a formal, properly drafted prenuptial agreement it can be thrown out by a judge. 
Full and Fair Disclosures Were Not Made Prior to the Marriage 
Florida allows parties to sign a premarital agreement if they choose to do so. That being said, the state does require full and fair disclosures. In effect, parties to a prenuptial agreement should disclose the extent of the property, assets, and debts prior to the signing of agreement. If proper disclosures are not made—either intentionally or unintentionally—the agreement may not stand up in a Florida court. 
Coercion: The Prenup Was Signed Under Duress 
In Florida, a prenuptial agreement can also be invalidated on the grounds that it was signed under duress. For example, imagine that one person put immense pressure on their partner to sign a prenuptial agreement prior to the marriage. It is possible that the agreement could be thrown out on those grounds alone. Coercion/duress cases are especially complex. They are highly fact intensive. If you have any questions about prenups and duress or prenups and coercion, contact our South Florida family lawyers for immediate help. 
There are Unlawful Terms in the Prenuptial Agreement 
Finally, a prenup can be thrown out on the grounds that there are unlawful terms. Under Florida law (Florida Statutes §61.079), prenups and post nuptial agreements can only be used to deal with certain matters, inclusive of property division. There are other family laws matters—such as child custody, child visitation, and child support—that cannot be dealt with in a prenup. If there are unlawful terms within an otherwise valid prenup, part or all of the agreement may be thrown out by a Florida judge.
Schedule a Confidential Consultation With a Florida Family Law Attorney 
At Williams & Varsegi, LLC, our skilled family lawyers have deep experience negotiating and litigating prenuptial and postnuptial agreements. If you have any questions about the enforceability of a marital agreement, we can help. Give us a call now or contact us to arrange your completely confidential initial consultation. We provide family law services throughout Broward and Palm Beach County, including in Boca Raton, Delray Beach, Boyton Beach, Highland Beach, Lake Worth, West Palm Beach, Jupiter, Parkland, Pembroke Pines, Fort Lauderdale, Coral Springs, Coconut Creek, Miramar, Hollywood, and Lauderhill.
Resource:
leg.state.fl.us/Statutes/index.cfm?App_mode=Display_Statute&URL=0000-0099/0061/Sections/0061.079.html