The Importance of Addressing Insurance Issues During Divorce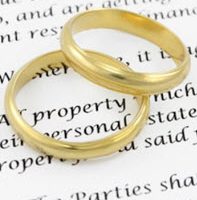 Divorce can be a complex and both physically and emotionally draining process, especially when it comes to dealing with all of the financial accounts and issues that must be addressed. It can, of course, be easy to overlook some of the important decisions that need to be made. However, when it comes to insurance policies, this aspect of your divorce absolutely cannot be overlooked.
The two types of insurance that you have to make sure you address (with the assistance of your attorney, if need be) are health and life insurance, as we discuss below.
Health Insurance
When it comes to health insurance, it is common for married couples to be covered under the same health plan; which is usually one individual's employer sponsored plan. This means that, after divorce, figuring out how the other spouse who was covered under the other's plan continues with health coverage can be challenging.
One option for the spouse who was covered under the other spouse's employer plan is to rely on the Consolidated Omnibus Budget Reconciliation Act, or "COBRA." This allows you to stay under that same plan for up to three years after your divorce. That being said, while COBRA can be convenient, it's not necessarily the Act opened up a number of other health insurance options for individuals who do not have access to an employer-sponsored plan and/or cannot necessarily afford their own private plan.
Life Insurance
Life insurance is the other important insurance policy you want to make sure you address in divorce. Life insurance is especially beneficial in that it continues even if the payer passes away, unlike spousal support. You will want to discuss life insurance with your divorce attorney, as it is sometimes a required part of the divorce decree and can be considered a marital asset. You and your attorney will also want to ensure that you retain control over the policy so as to make sure that there are no lapses in payments or other changes made that could affect your coverage. It is also crucial that life insurance is addressed before the divorce is finalized because you want to make sure that all of the requirements have been met;  for example, that the payer is insurable in the first place.
Insurance policies, like every other financial decision that comes up during divorce, can seem overwhelming. However, just like everything else, you need to be very familiar with what you have and what you need and moving forward. Contact our Coral Springs and Boca Raton divorce attorneys at the Williams & Varsegi, LLC, today to find out how we can help you with insurance issues and any other financial concerns that come up in your Florida divorce. We are here to help.
Resource:
forbes.com/sites/catherineschnaubelt/2019/04/29/insurance-issues-to-consider-in-a-divorce/#5b50413cb5d1