The Five Big Mistakes that Business Owners Should Avoid When Going Through a Divorce in Florida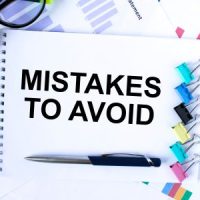 Are you a business owner preparing to end your marriage in Florida? It is crucial that you develop a proactive plan to protect your company and your personal financial interests. Dealing with a business in a divorce can be especially daunting. Too many business owners in Florida make avoidable mistakes that adversely impact their future. Here, our Boca Raton divorce attorney for business owners highlights the five big mistakes that you should be sure to avoid.
Mistake #1: Not Developing a Proactive Plan for Your Company 
One of the biggest errors is failing to develop a proactive plan. It is paramount to remember that divorce is a significant event that impacts all aspects of one's life, especially a business. Business owners need a thorough strategy to protect themselves, their company, and their employees from potential disruption. Among other things, this could involve making detailed arrangements for financial obligations, operational responsibilities, and future business plans.
 Mistake #2: Assuming that Your Business is Fully Protected from Divorce 
Do not assume that a non-business owner spouse has no claim on a company during a divorce.
Florida is an equitable distribution state (Florida Statutes § 61.075). A business that was formed after the start of a marriage or that gained significant value after the state of a marriage may be a marital asset that is subject to equitable distribution.
 Mistake #3: Failing to Get a Comprehensive Business Valuation 
A comprehensive business valuation is vital during divorce proceedings. By neglecting this step, business owners risk misestimating their company's worth, leading to unfavorable divorce terms. A professional valuation offers a clear understanding of the business's real value, including tangible and intangible assets
 Mistake #4: Not Adequately Considering the Tax Implications 
There may or may not be tax implications for business owners who get divorced. Indeed, for business owners in Florida, the divorce process often raises a lot of complex financial questions. For instance, a property transfer or selling business shares to divide assets may trigger significant tax liabilities.
 Mistake #5: Not Hiring the Right Divorce Attorney
 Finally, failing to hire the right divorce attorney can be a costly mistake. Not all attorneys are well-versed in the complexities of divorce involving business owners. The right lawyer will have specific experience with such cases and understand the intricacies of business valuation, asset division, and tax implications. A great divorce lawyer for business owners will help you not only protect your company and your professional interests, but also all other family law issues.
Contact Our Florida Divorce Attorney for Business Owners for Immediate Help
At Williams & Varsegi, LLC, our Florida divorce attorneys have the skills and experience to help business owners navigate the complexities of the legal process. Have questions about your business and your divorce? We can help. Contact us today for your confidential consultation. From our Boca Raton law office, we provide divorce representation to business owners in Florida.