Small Business Owner Getting Divorced? You Must Get A Comprehensive Business Valuation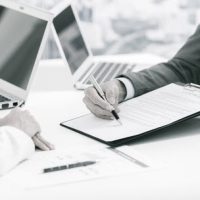 Small businesses form the backbone of our economy. According to data from the Small Business Administration (SBA), there are 2.6 million small businesses in Florida. More than 40 percent of all people employed in the state work at a small business. Owning and operating a small company or mid-sized company presents challenges—especially during today's turbulent economic times.
Going through a divorce adds another layer of uncertainty. Business owners need to know how to protect themselves and their company during a divorce. A business valuation is crucial. Within this article, our Boca Raton divorce attorney explains what a business valuation is, the common methods, and why it is such an important part of the divorce process.
 Background: A Business May Be Subject to Equitable Distribution in a Divorce 
Before a divorce can be finalized, a couple's property and assets must be split. In Florida, a divorcing couple's marital property is subject to equitable distribution. The best way to think of equitable distribution is as a fair distribution. It could be a 50/50 split—but that is not guaranteed.
A business (or business interests) may be subject to equitable distribution. If a business is deemed marital property—which is likely if the company was formed or gained substantial value after the start of the marriage—it will be subject to division under Florida's equitable distribution law.
 A Business is a Complex Asset (Often Requires Professional Valuation)
 While all marital property may be subject to equitable distribution, not all marital property is equally easy to value. Indeed, some assets are straightforward. There is no dispute over the value of a savings account with $25,000 in it. In contrast, a business is a notoriously challenging asset to value. A professional valuation is often required to determine the fair market value of a small business. There are several different methods that can be used to value a business, including:
A discounted cash flow (DCF) analysis;
The fair market valuation method; and
The comparable transaction approach. 
You Cannot Effectively Navigate a Divorce as a Business Owner Without a Valuation
 Protecting your small business through a divorce is a key aspect of setting yourself and your family up for a strong and positive financial future. The simple reality is that you cannot effectively handle your business interests during a divorce unless you know exactly how much your company is actually worth. A comprehensive and accurate small business valuation will give you the tools that you need to move forward and find the solution that works best for your situation.
 Contact Our South Florida High Net Worth Divorce Lawyers Today
At Williams & Varsegi, LLC, our Florida high net worth divorce attorneys have the skills and experience to represent small business owners. If you have questions, we are here to help. Contact our family law firm today for a completely confidential initial consultation. From our Boca Raton office, we serve communities throughout the region, including in Parkland and Coral Springs.
Source:
cdn.advocacy.sba.gov/wp-content/uploads/2021/08/30141325/Small-Business-Economic-Profile-FL.pdf