How To Protect Your Assets In A High Net Worth Divorce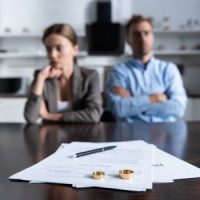 For high income and high asset couples, going through a divorce is especially hard. It is crucial that you take proactive measures to protect your financial interests. At Williams & Varsegi, we provide high net asset divorce representation in Broward County and Palm Beach County. Here, our Boca Raton high net worth divorce lawyers highlight five steps that you can take to best protect your assets in a high net worth divorce in Florida.
Get Organized: Carefully Gather All Legal and Financial Information 
For high income and high asset individuals going through a divorce in Florida, organization is crucial. You need to gather all relevant legal and financial information. The more you have, the better position you will be in when trying to navigate the divorce process. Key information includes:
A copy of any prenup or postnup;
A breakdown of income and expenses;
Bank account records and related information.
Investment and retirement account statements;
Recent tax returns and pay stubs.
Consult With a Qualified Florida Divorce Attorney 
You do not have to navigate the financial complexities of a high net worth divorce in Florida alone. Professional guidance and support is available: A South Florida family law attorney with experience handling high net worth divorce cases will protect your legal rights and financial interests. 
Consider Hiring a Forensic Accountant 
You may want to retain a forensic account. This is especially valuable if you own a business or have complex assets. Indeed, forensic accounting investigations are often a useful tool in high net worth divorces in Florida. A forensic accountant will make sure that you have all of the documents, records, and information you need to know the true financial position of you and your spouse. 
Know Your Duty to Make Financial Disclosures 
In Florida, parties to a divorce case—high net worth or otherwise—are required to make comprehensive financial disclosures (Rule 12.285). If you fail to disclose assets to your spouse, you could face potential sanction in the equitable distribution process. A Florida court could even award your spouse a greater share of the marital property. Make sure you know your duty to disclose. 
Try to Work Towards an Amicable Agreement 
Finally, high net worth couples can often benefit from working towards an amicable resolution to their divorce. The simple reality is that divorce litigation has the potential to be expensive. While litigation is necessary to get a fair outcome in some cases, it is always best to work with your Florida divorce lawyer to try to reach a settlement.
Schedule a Confidential Consultation With a High Net Worth Divorce Lawyer in Florida
At Williams & Varsegi, LLC, we have the specialized skills and legal expertise to handle high income divorce cases. If you have any questions about preparing your finances for a divorce, our family law team is ready to help. Contact us now for a completely confidential initial consultation. With a law office in Boca Raton, we provide high net worth divorce representation throughout Southeastern Florida, including in Parkland, Coral Springs, Margate, Tamarac, and Coconut Creek.
Resource:
floridasupremecourt.org/content/download/345287/file/01-2344_rule.pdf